Puzzle by DD Liu and Josh Alman
| | |
| --- | --- |
| | You need to use your earlobe to identify the animals in the music, as well as the animals in the video, in order to solve the puzzle. |
| | |
| --- | --- |
| At one point in the song, the singers imitate the noises of a bunch of sea creatures. The eight sea creature noises in the puzzle's music appear in this section, and so we can identify what eight creatures are making those noises! The noises in the puzzle music alternate between left and right speaker to be more distinguishable. The eight creatures we identify appear in order below. | |
| | |
| --- | --- |
| | We can then count how many times each of these creatures appears in the video. Index the number of that sea creature into its name in the song, put in the order of the puzzle music, to find the puzzle answer. |
Answer: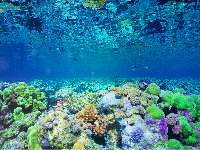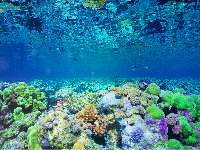 IMAGE
NAME
COUNT
LETTER

DOGFISH
2
O
BIKINI WHALE

A 2-piece swimsuit whale.

3
K
CATFISH

Somehow always positions itself inconveniently.

1
C

SEA ROBIN

These guys can be identified by their leg-like fins that they can use to walk, or their colorful wings which they can use to fly. The amazing ATV!

5
O
NARWHAL

Do the other whales judge them for not wearing clothes?

3
R

PIRANHA

Jittery little fellows.

3
R

MANTA RAY
2
A
JELLYFISH
3 jellyfish and 1 fish made of jelly
L
There were also some OTHER VISITORS that just happened to swim by at that moment.
IMAGE
NAME
ROCK LOBSTER

A rock lobster rocking on the bass. Another hint to the song. Rocks lobster are also known as crayfish, pronounced "xrayfish".

BAKIN' POTATOES

These reference another lyric in the song, and may also remind you of EXTREME POTATO COUNTER, which hints counting.

NON-BIKINI WHALES

No, those are Skirt Beluga, Bowtie Bowhead, and Sailor Senshi Blue whale.

HERRING

Happen to be red.

visitors